Concord, NC
Congregations Embrace Exercise
For many church congregants and local residents, it's hard to find affordable, safe spaces to be physically active
Virginia Adams
Virginia Adams understands the links between spiritual health and physical health. She works as a registered nurse at First Missionary Baptist Church in Concord, North Carolina. In this capacity, she helps congregants and community members approach wellness from every angle, which includes eating healthy foods and getting exercise.
"I work with people to address the spirit, mind, and body," she said, "and I establish a relationship with the community to help individuals see the importance of having a healthy lifestyle." But for many church congregants and local residents, it's hard to find affordable, safe spaces to be physically active.
Making Physical Activity a Priority
Concord is the county seat of Cabarrus County, which faces serious health disparities. "The county has large Hispanic and African American populations, and the adults in both groups are more likely than white adults to have a chronic disease," said Corliss Solomon, a doctoral student in public health at UNC Charlotte. Solomon works with the local health authority, Cabarrus Health Alliance (CHA), to evaluate its Racial and Ethnic Approaches to Community Health (REACH) project. 
The project, funded by the Centers for Disease Control and Prevention (CDC), focuses on addressing health disparities among residents of color. CHA is using its REACH funding to increase access to healthy foods, link community projects and clinical efforts, and increase opportunities for physical activity. 
"With a different grant (Healthy Lives, Healthy Futures), CHA began promoting physical activity in faith-based communities that served Hispanic and African American populations," said Alicia McDaniel, REACH program coordinator at CHA. "When the opportunity of the REACH grant came along, CHA thought it would be a great avenue to strengthen those partnerships and build on existing work."
"We wanted to work with trusted community institutions"
CHA staff and community partners met with congregations in Cabarrus County to discuss shared use: a practical, cost-efficient strategy for creating opportunities for physical activity. Cabarrus County is home to many churches, several of which already opened up their recreational facilities on an informal basis. 
"We wanted to work with trusted community institutions that were already doing work in this area," said Solomon. "By working with faith-based communities, we would be able to reach people that live near or attend a church, but might not have easy access to a grocery store, a sidewalk, or even a school to play at."
Implementing Policy
North Carolina has been a leader in crafting creative shared use arrangements to meet community needs. As part of the CDC Community Transformation Grant program, ChangeLab Solutions partnered with the North Carolina Division of Public Health to create Congregation to Community, a fact sheet and model open use policy for congregations interested in allowing shared use.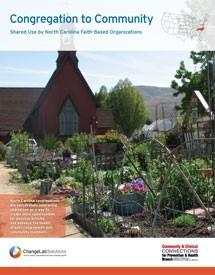 As McDaniel explored what shared use could look like in different contexts, her online research led her to ChangeLab Solutions. "I brought Congregation to Community to every meeting I attended," said McDaniel. "It was an invaluable guide."
McDaniel and her partners used the fact sheet and other materials to develop a training for 7 Cabarrus County churches. After the training, every church* chose to adopt an open use policy and allow free community access to its recreational facilities without a formal partnership.
Using the checklist and model policy language in Congregation to Community, each congregation developed a policy. McDaniel also worked with our team to develop a fact sheet on shared use and liability for churches in the county.
"It has given us an opportunity to expand the services we're offering and rethink how we're offering them."
"We relied heavily on the open use policy printed in the back of Congregation to Community. We were able to modify it to fit each church's needs," said McDaniel. "We even translated the policy language into Spanish to create a policy for a Spanish-speaking faith-based organization we were working with."
First Missionary Baptist was one of the 7 congregations that adopted an open use policy. "We had already been offering exercise classes for congregants and local residents," said Nurse Adams. "But this policy makes everything more official, more legitimate. It has given us an opportunity to expand the services we're offering and rethink how we're offering them."
Embracing Open Use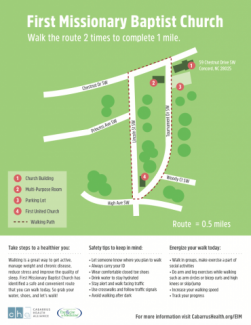 Since adopting the policies, the churches have been actively promoting their physical activity classes, facilities, and equipment. First Missionary Baptist provides bilingual handouts that show possible walking routes around their grounds. One church has an improved track, and others have recreation rooms equipped with televisions and exercise videos. All the resources are open to the public.
"These are nice alternatives to a formal class because people can exercise on their own time," said Solomon. "Congregation members invite their neighbors to come to the church to exercise, and community members can take advantage of a free facility nearby."
The path to shared use has helped these churches recognize their important role as community institutions. "Lack of physical activity is a national issue, a North Carolina issue, and a Cabarrus County issue," said McDaniel. "These churches see how they can make a difference locally by promoting health and well-being comprehensively. They are taking the necessary steps to stimulate change."
*The following churches were involved: Centergrove Road Church of Christ, First Missionary Baptist Church, Templo Redención, Zion Wesley A.M.E. Zion Church, Bellefonte Presbyterian Church, Kerr Street United Methodist Church, Price Memorial A.M.E. Zion Church