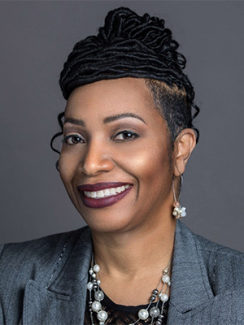 Erika is ChangeLab Solutions' controller, working directly with the chief financial officer and other members of the Finance and Development team to advance strong financial management and performance.
Erika's previous work experience includes several senior management roles. From 2011 to 2022, she served as finance and operations director for Gideon's Promise, Inc., an organization that is building a movement of public defenders who provide equal justice for marginalized communities. She managed the organization's accounting, finance, and operations functions. From 2001 to 2010, Erika was director of operations at GTM, Inc., a grassroots marketing agency, where her duties included corporate financial planning and analysis; implementation of human resource programs; organizational development; and data management.
Erika earned her bachelor's degree in accounting from Oakwood University in Huntsville, Alabama. Her passion is serving as a volunteer to build solid infrastructure for faith-based nonprofits and small businesses.