A Place to Play: Sharing School Space
Lemon Grove, CA
Jennifer Mendoza remembers when schools in Lemon Grove, California, allowed the public to use their fields and playgrounds. Over time, she watched in frustration as fences went up around these valuable recreational spaces. 
"I live across the street from a school, and I used to be able send my kids to the playground to play and run around. But in the last 15 years, school grounds have been closed off," said Mendoza, a city councilmember and former planning commissioner. "This has been hard for Lemon Grove residents. Many neighborhoods don't have sidewalks, bike lanes, or safe areas to be active."
Finding a Practical Solution
In 2012, after a budget shortfall forced the city to close the Lemon Grove Recreation Department, community members began to think of creative strategies to support physical activity. 
"Lemon Grove has the second highest prevalence of childhood obesity in San Diego County, and only one in five residents gets the recommended amount of physical activity per week," said Melanie Briones, director of the Lemon Grove HEAL Zone.
The Lemon Grove HEAL Zone, a health-oriented collaborative of decision makers and residents (including Mendoza), realized they could restore public access to school grounds by modifying an existing shared use agreement between the city and school district. This would be a cost-effective way to increase opportunities for physical activity.
Under the 40-year-old agreement, the city allowed sports teams to use the facilities at a local school, Lemon Grove Academy Middle School. But HEAL Zone members wanted space for informal exercise and play. They set out to increase recreational access to the middle school's outdoor play areas, which include grass fields, a new running track, and resurfaced basketball and tennis courts.
Building Partnerships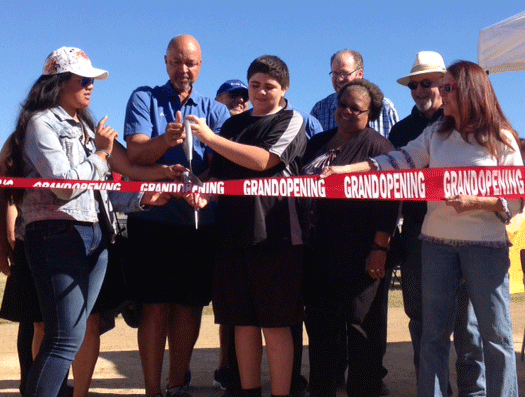 Community Health Improvement Partners, which facilitates the Lemon Grove HEAL Zone, had worked with ChangeLab Solutions on other initiatives to promote healthy eating and active living across San Diego County. Briones knew the ChangeLab Solutions team could help the City of Lemon Grove and the Lemon Grove School District work together to update the shared use agreement.
"We had worked with ChangeLab Solutions on policies to address childhood obesity, so we wanted their help improving the agreement and getting everyone on the same page," said Briones. 
ChangeLab Solutions staff teamed up with Briones, the city manager, and the superintendent of schools to expand and revise the agreement. Our shared use team helped the parties consider their options and allayed concerns about student safety, trash, and vandalism. They assessed the city's and school district's roles and responsibilities, and helped the groups see the many benefits of giving the community a safe space for physical activity.
"Throughout the process, which lasted several years, ChangeLab Solutions was always there to help. They provided numerous tools online, met with us in person, and consulted with us over the phone," said Briones.
The city and school district went back and forth with revisions. Residents spoke at district board meetings as well as city council meetings, pushing local leaders to open up the grounds for community use. In 2015, the city council and school board finalized a new shared use agreement that allows public use of the middle school's facilities every Saturday, from dawn until dusk.
Ensuring Success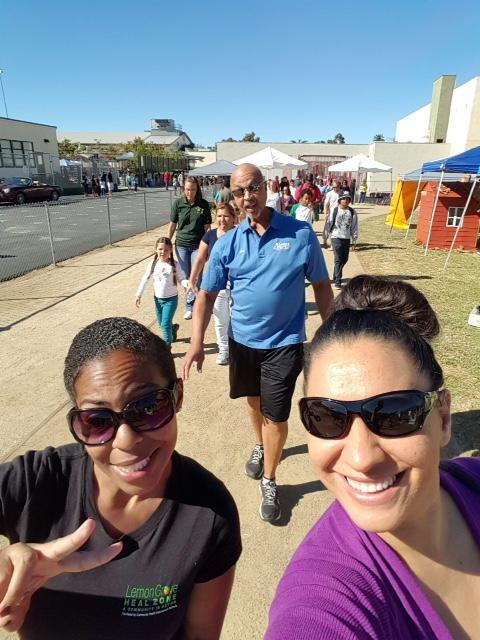 Per the agreement, each Saturday morning, school district staff open the gates and pick up trash. In the evening, public works staff clean up and close the gates.
"I haven't received any reports of excessive trash or vandalism. People are psyched to have access to the space, so they do their part and clean up before they leave," said Mike James, public works director for the City of Lemon Grove. "The arrangement seems to be working well for everyone involved – the city, the school district, and residents."
Mendoza and others have started promoting the open space by organizing informal activities. She has created a walking club that walks around the track every Saturday morning. Blanca Brown, a school board member and former HEAL Zone member, teaches adults and kids tennis every Saturday afternoon. Residents hope the success of the Saturday arrangement will encourage the city and school district to open up the facilities other days of the week, too.
"I drove by one Saturday and saw some young boys playing basketball and thought, this is exactly what we want," said Mendoza. "We want to have a safe place for kids to play, run, and throw a ball around."
Photo credit: Lemon Grove HEAL Zone
Downloads