Jewel Mullen, MD, MPH, MPA
Dell Medical School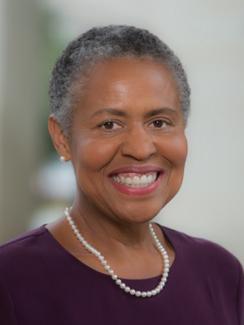 Jewel Mullen is associate dean for health equity at Dell Medical School at The University of Texas at Austin, as well as associate professor in the school's Department of Population Health and Department of Internal Medicine. She also serves as director of health equity for Ascension Seton, advising on policies to meet health equity goals across its system. Her career has spanned clinical, research, teaching, and administrative roles focused on improving the health of all people, especially those who are underserved.
Mullen is an internist, epidemiologist, public health leader, and former principal deputy assistant secretary for health in the US Department of Health and Human Services (HHS). While at HHS, she also served as acting assistant secretary for health during the transition from the Obama to the Trump administrations. In addition, Mullen has served as commissioner of the Connecticut Department of Public Health and director of the Bureau of Community Health and Prevention at the Massachusetts Department of Public Health .
Prior to her government service, Mullen was medical director of Baystate Health's Mason Square Neighborhood Health Center in Springfield, Massachusetts. She is recognized nationally and internationally as a leader in building effective community-based programs for chronic disease prevention. She is also known for her commitment to improving individual and population health by strengthening coordination among community, public health, and health care systems.
Board-certified in internal medicine, Mullen received a bachelor's degree as well as a master's degree in public health from Yale University, where she also completed a post-doctoral fellowship in psychosocial epidemiology. She graduated from Mount Sinai School of Medicine and completed her residency at the Hospital of the University of Pennsylvania. She also holds a master's degree in public administration from Harvard University's John F. Kennedy School of Government.