Michelle Mello, JD, PhD, MPhil
Stanford University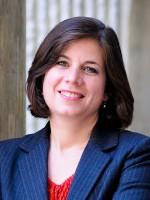 Michelle Mello is a professor of law at Stanford Law School and professor of health research and policy at Stanford University School of Medicine. She conducts empirical research into issues at the intersection of law, ethics, and health policy, and teaches courses in torts and public health law. She is the author of more than 150 articles and book chapters on the medical malpractice system, medical errors and patient safety, public health law, research ethics, the obesity epidemic, pharmaceuticals, and other topics.
From 2000 to 2014, Dr. Mello was a professor at the Harvard School of Public Health, where she directed the school's Program in Law and Public Health. From 2013 to 2014, she completed a Lab Fellowship at Harvard University's Edmond J. Safra Center for Ethics. In 2013, she was elected to the National Academy of Medicine (formerly known as the Institute of Medicine).
Dr. Mello holds a JD from Yale Law School and a PhD in health policy and administration from the University of North Carolina at Chapel Hill. She also holds an MPhil from Oxford University, where she was a Marshall Scholar, as well as a BA from Stanford University.