Elizabeth Sobel Blum, MBA, MA
Federal Reserve Bank of Dallas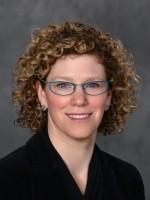 Elizabeth Sobel Blum, senior community development advisor at the Federal Reserve Bank of Dallas, leads the Dallas Fed's work in "healthy communities"—those in which individuals and their communities are vibrant, thrive, and show resilience.
Through research, publications, events, and coalition building, Sobel Blum helps advance discussion about creating and supporting healthy opportunities for all so that healthy becomes the norm. Sobel Blum's areas of focus include community development finance, health, housing, small business and entrepreneurship, and workforce development.
From January 2013 through December 2014, Sobel Blum chaired the University of North Texas Health Science Center's (UNTHSC) Community Advisory Board. In May 2014, she completed the Steps Toward Academic Research (STAR) Fellowship Program, which is run by the UNTHSC's Texas Center for Health Disparities, a National Institutes of Health-designated Center for Excellence.
She earned an MBA from the University of Texas at Dallas, an MA from American University, and a BA from Northwestern University.