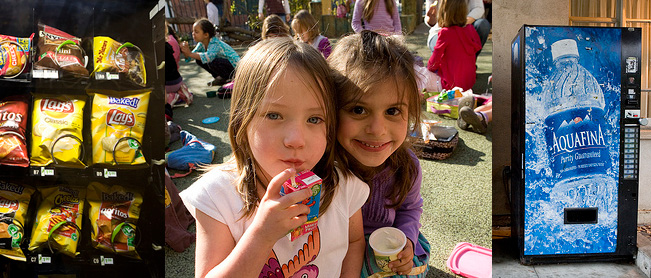 We've asked Jamie Oliver's Food Revolution to help identify which of our resources would be most helpful to parents who are interested in helping their school change their food systems and make sure more real food is featured. So here are some toolkits and resources for helping start a Food Revolution at your school..
Have you ever wondered how decisions are made about the food available in school vending machines? Our guide to healthy vending in municipalities provides an overview of how local procurement policies affect school vending programs. Parents who want to replace junk food with healthier options in their kids' school vending machines can use this guide to understand procurement, identify potential partners in their local government, and advocate for their community.
How can parents and community members influence their school districts to create healthy beverage vending contracts? Our fact sheet helps clarify how the federal mandate for school district wellness policies can support nutritional standards for beverages available in vending machines at schools. Learn more about key considerations for schools, including what to look for when soliciting a vendor, best practices to ensure a sound agreement, and ways for parents and other community members to get involved in the process.